Back your Android Phone Files All Up or Recover with a Click

Do you fear to losing data from your Android phone? Want to leave more room for more files?
With this All in one Android Management Tool for MAC, you can recover all or selected backed-up everything such as photos, music, videos, contacts, SMS, call history, apps, calendar, etc.to your Android phone with a click.




Enjoy Music, Audio and Video files and photos anytime anywhere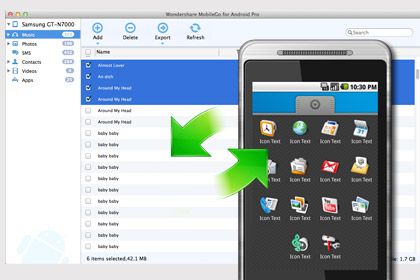 • MobileGo for Android Mac helps you directly download music from iTunes to Android phone or export all your songs from Android phone to iTunes. Transfer music, photos and videos to your phone all just need a click.

• Convert video and music files to Android compatible formats
- Video: convert MPEG/MPG/DAT, AVI, MOV, ASF, WMV, MKV, FLV to MP4, MP3.
- Audio: convert AC3, APE, AIF, AIFF, AMR, AU, FLAC, M3U, MKA, MPA, MP2, WMA, AAC to MP3.

• Sync between iTunes playlist and Android
- Easily import your iTunes music playlist to Android.
- Export music from your Android to iTunes library.


Desktop SMS Assistant for Sending & Replying Texts


• Group texting to relax your thumb and save time: MobileGo for Android allows you to text group a time from your computer. You don't need to text SMS one by one.

• Ensure your important text messages safe: MobileGo for Android (Mac) lets you send & reply texts directly on your Mac. Back up your important threads of messages as .xlm or .txt file, so you can keep them safely on your PC and import them to your Android as you like.

• Manage your phone calls on Mac: With MobileGo for Android (Mac), you can choose two ways to deal with your calls. Hang it or to reply it with a message on the Mac as you wish.


Organize Your Apps


• Download apps from online resource: You can directly download apps on your Mac after you connected your Android phone.

• Install or uninstall apps: Freely install or uninstall apps on the Mac, including those preinstalled on rooted Android phone.

• Back up apps: Back up apps from your Android device to Mac.You can backup all or selected apps on your Android.

• Share apps: By one simple click, you can share interesting or wonderful apps to your friends via FaceBook, Twitter or SMS.