One click backup your Android Data or Restore

• Too much important data are stored on your phone? Need to prepare extra room for more files?
• MobileGo for Android help you to backup everything, contacts, applications, SMS, call logs, music, movies, pictures, and calendar.
• In additional, you are able to retrieve all or selected backed-up data to your Android with a single click.





Edit, transfer and merge your contacts as you wish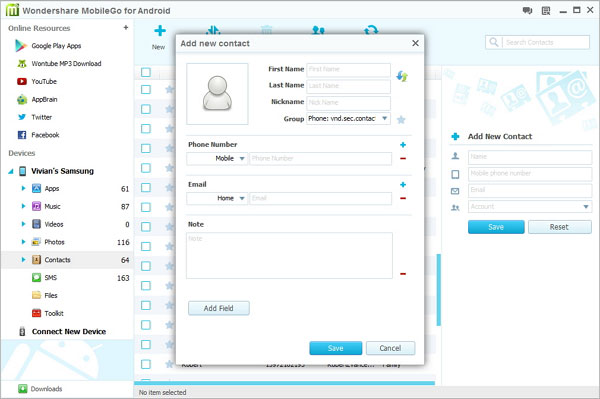 • Import & Export contacts between Android and computer

• Add new contacts to Android phone on your PC

• Edit contacts from computer

• Unduplicate contacts



Perfect Video, Music and Photo Converting Experience


• Convert video and music to Android-optimized formats.
Video: From MPEG/MPG/DAT, AVI, MOV, ASF, WMV, MKV, FLV to MP4, MP3.
Audio: From AC3, APE, AIF, AIFF, AMR, AU, FLAC, M3U, MKA, MPA, MP2, WMA, AAC to MP3.

• Sync between iTunes playlist and Android
Effortlessly Transfer music playlist from your iTunes to Android devices and export music to iTunes library.


High efficiency Desktop SMS Assistant


• Group texting to relax your thumb and save time
• Ensure your important text messages safe
With MobileGo for Android you can easily backup your important threads as .xlm file or .txt file on the PC
• Manage your phone calls on PC
Tired of writing text messages on a tiny four-inch screen and then send to your friends one by one´╝č
MobileGo for Android lets you Send & reply texts directly on your PC. Back up all your SMS or selected important text files as a .txt file on PC. When you have calls in, directly hang it off, or hang it off and reply with a SMS instead on your PC/Mac.


Organize Your Apps

You can download/install or uninstall/back up/share your android apps directly on your computer freely and easily.


Online Resources in One Place

With this Android Management Software, powerful functions extend to online resources:
• Collect favorite websites such as YouTube,Yahoo,etc, add all of them to MobileGo for Android, and visit them more conveniently.
• One click to Download Apps, Videos and songs from Google Play and YouTube by One Click.

The latest version of MobileGo for Android:


What's New in Version 4.3.0. Please find details below:
1. 100% compatible with Android 4.4;
2. Optimized the SMS management by improving the stability;
3. Worked well with Nexus 5 and more new Android devices;
4. Fixed the bug that it failed to import contacts from Outlook Express, Windows Address Book and Windows Live Mail in Windows 7.